A confession: Leandra and I are boring. Sometimes. It's not that we want to be (at all!) but I suppose that, like most everyone else, we're creatures of habit… oftentimes uninteresting habits. For as much as we love taking adventures, reading about adventures, and dreaming about adventures, sometimes we're bad at being adventurous. We don't just gravitate towards Barnes and Noble– no, we also have our favorite table at Barnes and Noble. And we have our "regular" drinks. I have the same bowl of unsweetened oatmeal and blueberries for breakfast every morning. I'll admit that I like some of those things to be boring and predictable (okay, I like ALL of those things for good reason!). But we both know that sometimes it's good to shake things up and do something completely unplanned.
So, as we were driving back from Chicago at 11:30pm on Monday, and we saw a billboard that proclaimed, "Your Life-Changing Jackpot Awaits", we both knew that we had to pull over and see the self-proclaimed Mecca of Southwest Michigan casinos: Four Winds. Okay, so it was more the promise of coffee and a leg-stretch instead of the life-changing jackpot that lured us off I-94 and down the long winding lane through the trees. Either way, we parked, got our tres chic "age-verified" wristbands, walked down the long hall lined with shops to where Wristband Man said there was complimentary coffee (!), and sat our oh-so-adventuresome selves down at the 2-penny slots. A half-hour and a few dollars later, we picked our sufficiently-caffeinated (or was it adrenaline?) selves up and headed back on our way, rolling into our place at 3am.
The only evidence we have of this random blip in our week? This crappy picture I took on my phone. It's the perfect "I went to Four Winds and all I got was this lousy picture" kind of picture.
The best part about our little trip wasn't the coffee, that's for sure. Or the fact that we had a chance at a life-changing-jackpot (Is that even possible with the 2 penny slots?!). It was the fact that we got to wake up yesterday, find our empty Four Winds cups in the car, and feel good because we made a boring drive into an interesting story. And that's one strike against our-sometimes-uninteresting-lives.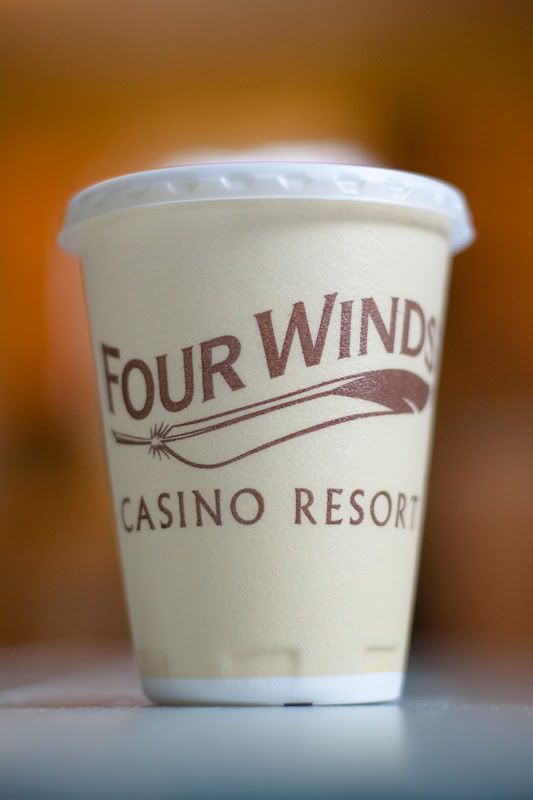 How much exactly did we "donate" to the casino? I'll just say that we could have spent that much ordering our favorite drinks at our regular coffee shop. With a size upgrade. Or two. And that comes out to exactly "not too much".